SFL Wins Contract for First Norwegian Science Satellite – NORSAT-1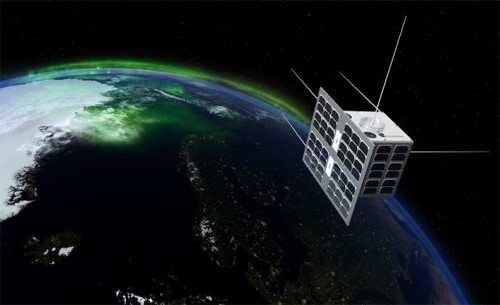 By Christer Aasen, Norsk Romsenter (Norwegian Space Center)
The University of Toronto Institute for Aerospace Studies (UTIAS), Space Flight Laboratory won the contract after an international request for tender.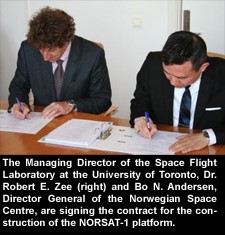 For less than 20 millon NOK, the University of Toronto will construct the platform for the satellite and integrate the payloads before launch.
In a small ceremony at the Norwegian Space Centre in Oslo Friday, the Managing Director of the Space Flight Laboratory, Dr. Robert E. Zee, signed the contract in the presence of the Canadian Ambassador to Norway, David Sproule.
"We have been developing miniature satellites for 15 years, and we believe in developing high performance satellites at low cost. We will continue to push the envelope in the future and are very happy to be here today and having obtained this contract", Dr. Zee said.
The Canadian Ambassador added that Canada and Norway are natural partners.
"And I'm delighted that we have come so far. This contract is an example of what our countries want to do and where we are heading," he said.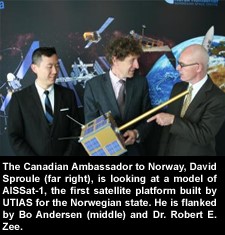 The new satellite will be built to investigate solar radiation, space weather and detect ship traffic. Initially named NORSAT-1, the launch is planned for 2015 or early 2016. The NSC will coordinate the development and the integration of the instruments.
As with the Norwegian satellite AISSat-1, launched in July 2010, NORSAT-1 will carry an AIS receiver for performing ship detection from space. The new AIS receiver will be more advanced and employed to test out new detection algorithms.
This AIS receiver will detect and track maritime traffic in Norwegian and international waters via the Automatic Identification System (AIS), which all ships over 300 gross tonnes are obliged to carry.
The instruments planned for NORSAT-1 will require a larger satellite platform than that of AISSat-1. NORSAT-1 will measure 20x20x40 cm, whereas AISSat-1 measures 20x20x20 cm.
The instruments will cover several aspects of scientific research focusing on the sun, including measuring Total Solar Irradiation (TSI) with one instrument, and measuring electron plasma from the sun with a Langmuir probe (LP).
The two instruments are being constructed by Norwegian and international research teams, and were chosen because they were the furthest along in their development process and fit the overall plans for the satellite best.
The Norwegian Space Centre will coordinate the development and the integration of the instruments for the new satellite platform.
The new satellite will also have its mission control in Norway, requiring the right competence and infrastructure to be built.
NORSAT-1 will be launched to a polar orbit at approximately 600 kilometers height.