Space Flight Laboratory Launches Five Satellites in Two Weeks
8 July 2014, SFL (Toronto) – In just over two weeks, the Space Flight Laboratory has launched five satellites. Two satellites are Canadian BRIght Target Explorer (BRITE) satellites for studying luminous stars from orbit (launched 19 June 2014 on a Dnepr rocket from Yasny, Russia), another two are the CanX-4 and CanX-5 formation flying satellites (launched 30 June 2014 on PSLV-C23 from Sriharikota, India), and finally AISSat-2, is Norway's second satellite for ship tracking (launched 8 July 2014 on Soyuz 2-1B from the Baikonur Cosmodrome, Kazakhstan, see Figure 1). With the exception of one of the two BRITE satellites, all satellites have been contacted and confirmed healthy. It is believed that the BRITE-Montreal satellite did not separate from its Dnepr launch vehicle.
The four satellites have also been making swift progress in commissioning. After only eight days in orbit, BRITE-Toronto entered fine pointing with accuracy and stability better than one arcminute (12 arcsec RMS), and since then has been doing  regular observations of Centaurus and Cygnus. BRITE-Toronto joins three other successful BRITE satellites already operating in orbit, all based on SFL satellite technology. Also in just over a week's time, the CanX-4 and CanX-5 satellites have been largely commissioned, including their on-board propulsion systems, and will soon execute a drift recovery maneuver as a prelude to their tandem formation flying demonstrations. AISSat-2 was contacted during its first pass over Svalbard, within hours of launch. During its first pass, which only lasted about 10 minutes, several on-board systems were commissioned quickly, thanks to prior experience with AISSat-1. Also during its first pass, AISSat-2 detected many ships, confirming the operation of its main mission payload.
"Today is a great day for SFL," remarked Dr. Robert E. Zee, Director of SFL, "Not only have we demonstrated the versatility of SFL's small satellite technology, which offers high performance in a miniature package at ultra-low cost, but we have demonstrated the robustness and grittiness of SFL's XPOD dispenser, which continues to be a reliable workhorse for nanosatellite separations from many different launch vehicles." SFL's XPOD dispenser has successfully ejected 22 satellites to date from the Cosmos-3M, PSLV, Dnepr, and Soyuz 2-1B rockets. "Although we are a bit saddened about the lack of separation of BRITE-Montreal, we have seen no evidence to suggest that there was anything amiss with the XPOD responsible for its ejection. We continue to ask the launch agency, Kosmotras, for a detailed telemetry report to help us to understand what happened," says Zee. Kosmotras indicated in the days following the Dnepr launch that re-issuing the separation command to the XPOD was not possible. No further explanation was given. "There is a small chance that the XPOD will still deploy BRITE-Montreal, as the cord that holds the clamping mechanism together may degrade in the space environment over time. SFL will continue to send commands when the Dnepr upper stage is over head, in case the XPOD deploys BRITE-Montreal. We never give up hope."
With four new satellites working just fine in orbit, SFL now boasts 11 operational satellites that it has either developed in house or played a major role in developing. With more satellites to be launched and under construction, SFL remains Canada's most prolific satellite builder and exporter of complete satellite missions.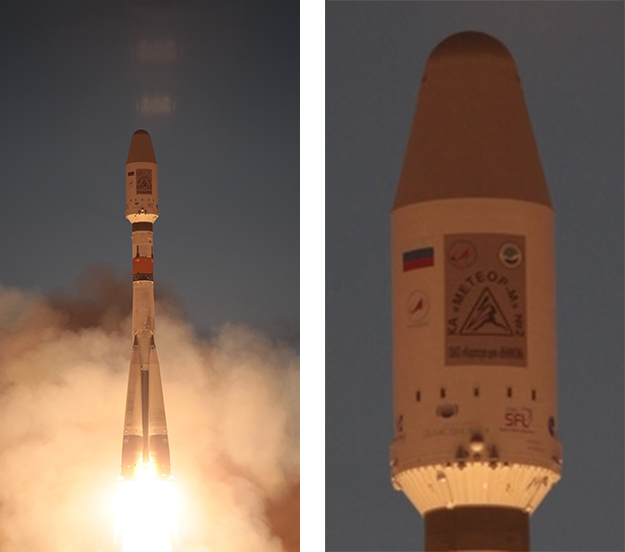 Figure 1:  Soyuz 2-1B rocket carrying AISSat-2 to orbit with SFL logo visible on fairing.