BRITE-Constellation Sees Stars in a New Light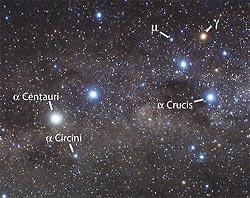 Vienna, Austria – The first scientific paper produced using data collected by the nanosatellites forming the BRITE-Constellation (BRIght Target Explorer), to be published in an upcoming issue of the journal Astronomy & Astrophysics, is revealing new information about a well-studied star, Alpha Circini.
"Our analysis of the BRITE data revealed behaviour in this star that has not been observed before," said Professor Werner Weiss from the University of Vienna, Austrian Principal Investigator for BRITE and lead author of the paper. "BRITE-Constellation showed complex behaviour in Alpha Cir due to both rotation and pulsation. Moreover, that behaviour is different when observed in different colours. This result clearly demonstrates the power of BRITE-Constellation and the unique science that is possible using these tiny two-colour precision instruments in space."
Referring to the fact that each seven kilogram BRITE satellite is tuned either for the blue end of the visible spectrum or the red, Prof. Weiss highlights the feature that makes the BRITE data so valuable to astronomers; it is multi-coloured.
"For stars, colour and temperature go hand-in-hand. Having the ability to examine stars in different colours with data taken every few minutes for up to six months is providing new insights into their inner workings," explains Prof. Weiss.
Using these precision instruments, BRITE-Constellation's mission is to perform a survey of the most luminous stars in the Earth's sky via a branch of astronomy called asteroseismology – literally, the study of "starquakes". Typically massive and short-lived, these stars dominate the ecology of the Universe and are responsible for seeding the interstellar medium with the "heavy" elements critical for the formation of planetary systems and organic life. In short, BRITE studies classes of stars that, billions of years ago, made life on Earth possible.
With an apparent magnitude of 3.19, Alpha Cir is the brightest star in the southern constellation Circinus and belongs to the class of stars known as rapidly oscillating Ap stars. The star in question was observed by four of the BRITE satellites from March to August 2014 and will be observed again in 2016. It is hoped that these new observations will provide both a better understanding of its complex behaviour and a chance to confirm a new oddity about this already peculiar star; that its speed of rotation is decelerating.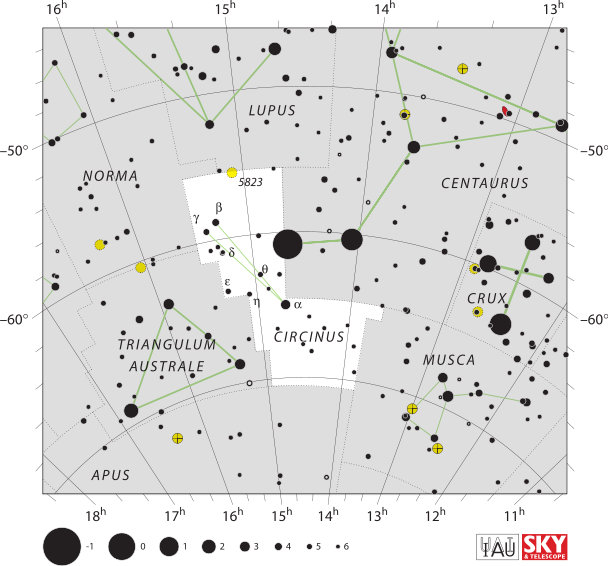 The nanosatellites making up BRITE-Constellation were designed by the Space Flight Laboratory at the University of Toronto Institute for Aerospace Studies (UTIAS-SFL) of Canada. Each of three countries, Austria, Poland, and Canada, funded two satellites and the science team counts among its membership several other nations.
"BRITE-Constellation is, to our knowledge, the world's first space astronomy constellation," notes Dr. Robert E. Zee, Director of the Space Flight Laboratory, "it serves as an excellent example of what SFL engineering can deliver in smaller satellites. In the case of BRITE, SFL satellites are delivering breakthrough scientific discoveries for the benefit of humankind. Each BRITE satellite, at only seven kilograms, packs a powerhouse of capability that is both unexpected and revolutionary for its size."
Though scientific data have been collected by BRITE for almost two and a half years, a backlog of data from well in excess of 200 stars has accumulated while the pipeline for processing and distributing the vast quantities of data was being perfected. With that pipeline now in place, the Alpha Cir paper represents the first in what is likely to be a flood of scientific papers from BRITE data in 2016, and for years to come. In fact, two other exciting papers have already been accepted for publication.
The first paper, authored by Dr. Dietrich Baade of the European Southern Observatory, describes the discovery of pulsation-driven mass transfer from the massive star Eta Centauri to a complex and ever-changing gaseous disc surrounding it. Due to the subtle nature of the variability induced by this complex clockwork, detecting it from the ground was, and remains, nearly impossible. "Seeing such a complicated interplay between Eta Cen and its immediate environment with BRITE was a most unexpected eye opener," reports Dr. Baade.
Because of the wide field of view of BRITE's telescopes (40 times the diameter of the full moon) Eta Centauri was only one of about 30 targets observed simultaneously in the constellation Centaurus. Using one of those targets, the second forthcoming paper accurately determined the masses of stars in the triple star system Beta Centauri. That study, carried out by Dr. Andrzej Pigulski of Wrocław University in Poland, is revealing the enormous potential of BRITE data by uncovering very rich pulsations which will help to enhance the understanding of stellar structure and evolution.
"BRITE is in a class of its own when comparing performance and scientific return to cost and size," said Cordell Grant who oversaw the design and construction of the satellites and now manages their operation. "It's fantastic to see science results and new discoveries begin to flow from this unique mission. With the huge backlog of data already being studied on the ground and with the capabilities of the constellation expanding all the time, it's exciting to think about the discoveries that are just waiting to be uncovered."
The Alpha Cir paper can be found here.