Microsatellites: NEMO-HD
January 25, 2014
Next-generation Earth Monitoring and Observation – High Definition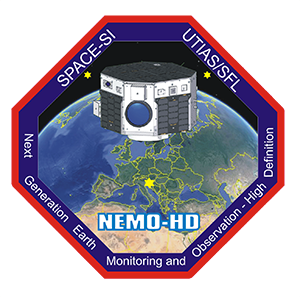 NEMO-HD is a high performance multispectral earth-observation microsatellite (70 kg) currently in development by the Space Flight Laboratory (SFL) for the Slovenian Centre of Excellence for Space Sciences and Technologies (Space-SI). The NEMO-HD payload consists of two instruments.
The primary instrument is capable of imaging in four spectral bands at a pan-sharpened GSD of 2.8m, and covers a swath width of 10 km. The secondary instrument produces images at a GSD of 40m and a much wider field of view.
In addition to still imaging, both primary and secondary instruments capture high definition video at 25 frames per second. The video is H.264 encoded and downlinked in real time.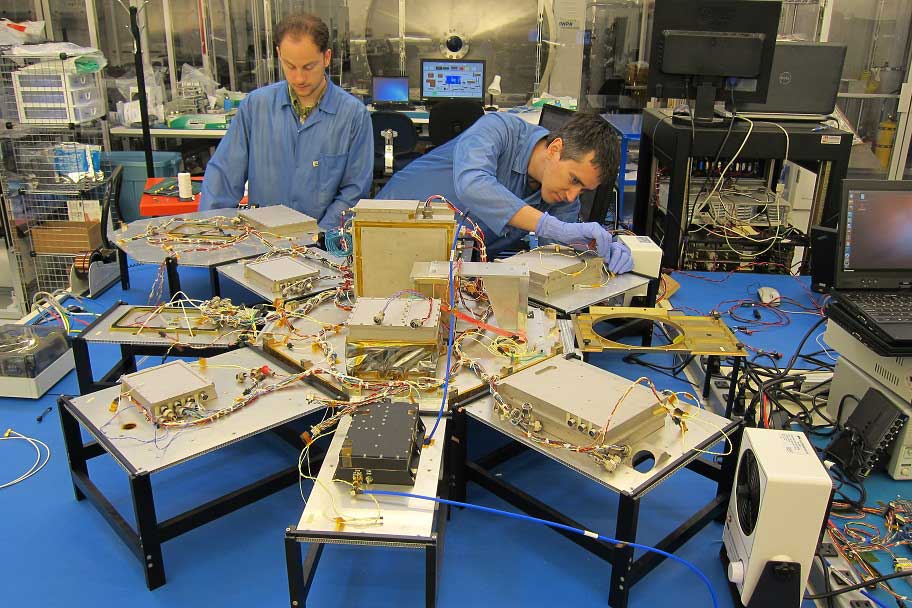 Figure 1:  NEMO-HD integration at SFL.
NEMO-HD is designed to provide moderate-to high-resolution Earth imagery in a number of bands, as shown in Table 1. In addition, NEMO-HD carries two high-definition video channels, each providing real-time video at 25 frames per second, as shown in Table 2. The video channels are co-boresighted with the still imagery channels. This allows for a real-time imaging mode, in which an operator is viewing the real-time video feed; once a feature of interest is spotted, the spacecraft can be commanded to acquire still images of the target.
Table 1: NEMO-HD still imagery observation bands
| Channel name | Bandwidth | Ground sampling distance | Swath width |
| --- | --- | --- | --- |
| HRS-PAN | 400 – 900 nm (Pan) | 2.8 m | 10 km |
| HRS-MS1 | 420 – 520 nm (Blue) | 5.6 m | 10 km |
| HRS-MS2 | 535 – 607 nm (Green) | 5.6 m | 10 km |
| HRS-MS3 | 634 – 686 nm (Red) | 5.6 m | 10 km |
| HRS-MS4 | 750 – 960 nm (Near IR) | 5.6 m | 10 km |
Table 2: NEMO-HD video channels
| Channel name | Ground sampling distance | Swath width |
| --- | --- | --- |
| High resolution | 2.8 m | 5 km |
| Low resolution | 40 m | 75 km |