CanX Program: Mission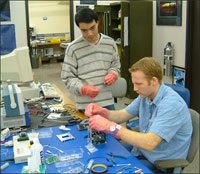 The Canadian Advanced Nanospace eXperiment (CanX) program at the UTIAS Space Flight Laboratory provides cost-effective access to space for the research and development community at home and abroad through the use of nanosatellites. These circa 10-kilogram spacecraft employ state-of-the-art technologies and subsystems, including high-performance computers, miniaturized attitude control sensors and actuators, and high-speed communication devices.
The first CanX satellite, CanX-1, was primarily a programmatic pathfinder to forge the general approach to development, launch and operations of nanosatellites in Canada. The spacecraft's principle mission focused on space-testing key technologies for future SFL micro and nanospacecraft. These key technologies included colour and monochrome CMOS imagers, a novel low-cost computer and active-three axis magnetic stabilization. CanX-1 was successfully built and was launched on June 30th 2003.
The next CanX satellite, CanX-2, was launched in April 2008 and is significantly more capable than CanX-1. While CanX-1 was SFL's first foreray into nanosatellites, CanX-2 represents a nanosatellite developed with high performance objectives following SFL's full quality assurance plan. CanX-2 has successfully met its two mission objectives. The first objective was to demonstrate key technologies required for the CanX-4 & -5 formation flight mission. These technologies include a novel SFL-designed cold gas propulsion system and miniature attitude determination and control subsystem sensors and actuators to name a few. The second objective was to perform scientific data collection of importance to the Canadian research community. The scientific mission continues to this day and includes a miniature spectrometer to detect greenhouse gases and a GPS occultation experiment to measure vertical profiles of total electron content and water vapor in Earth's upper atmosphere.
CanX-3, also known as BRIght Target Explorer (BRITE) Constellation, involves six nanosatellites funded by three countries (Austria, Poland, and Canada) that will observe the largest and brightest stars in the sky. Using a technique called differential photometry, BRITE Constellation will measure subtle variations of light from these objects in order to probe the structure and evolution of massive stellar objects. BRITE Constellation will achieve this mission using three-centimeter aperture optical telescopes carried by the six nanosatellite platforms.
In addition to supporting leading-edge scientific research, the CanX spacecraft are used for technology demonstration. The advanced components incorporated into the spacecraft are candidate technologies for future high-performance microsatellites. CanX missions are an excellent means by which to gain flight heritage for developmental systems. Some examples are described below.
CanX-4 and CanX-5 is a dual nanosatellite formation flying demonstration mission. It involves two nanosatellites flying autonomously in precise formations in low Earth orbit. Relative position determination will be accurate to a few centimeters using carrier-phase differential GPS techniques. Relative position control will be accurate to within one meter.
CanX-6, otherwise known as Nanosatellite Tracking of Ships (NTS), launched in April 2008, is a mission developed and successfully implemented for COM DEV Ltd. to demonstrate high performance Automatic Identification System (AIS) detection of ships from space. This mission was developed by SFL in six months and launched in the seventh. It represents one of the most responsive space missions conducted worldwide.
CanX-7 is a deorbiting demonstration mission. In order to address the debris mitigation guidelines of the Inter-Agency Debris Coordination Committee (IADC), SFL is developing a compact, scalable drag sail that can be used to ensure reentry of small satellites within the IADC 25-year limit in cases where a satellite cannot deorbit naturally on its own.