SFL-Built AISSat-1 Reaches Orbit and Confirmed Healthy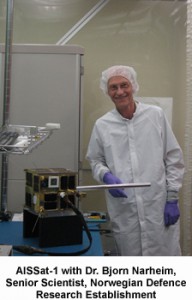 SFL is pleased to announce that AISSat-1 (Automatic Identification System Satellite 1) was successfully launched on PSLV-C15 last night at 03:52 UTC (12 July 2010) from Sriharikota, India. AISSat-1 is a ship detection satellite built by the UTIAS Space Flight Laboratory (SFL) for the Norwegian Defence Research Establishment. The satellite houses an Automatic Identification System (AIS) receiver developed by Kongsberg Seatex of Norway. The purpose of the satellite is to demonstrate the detection and monitoring of ships in Norwegian territorial waters. AISSat-1 was launched together with a Swiss nanosatellite, TIsat-1, under the cluster name "Nanosatellite Launch Service 6 (NLS-6)." Both satellites were ejected successfully from their launch vehicle using XPOD separation systems developed by SFL. Contact was made with AISSat-1 a few hours after launch confirming that the satellite power and thermal status was good, and that the satellite was healthy.
AISSat-1 is based on SFL's Generic Nanosatellite Bus (GNB) – a versatile, multipurpose bus with three-axis pointing capability. GNB satellites are 7 kilograms, 20x20x20cm in size. The GNB represents state-of-the-art Canadian nanosatellite technology, and is one generation in advance of the technology flying on CanX-2, another SFL nanosatellite currently in its third year of operations. The GNB will also support upcoming missions including BRITE Constellation and the CanX-4&5 formation flying mission. GNB technology is also the basis for third generation NEMO (Nanosatellite for Earth Monitoring and Observation) class missions, involving 15 kilogram, 20x20x40cm satellite platforms, such as NEMO-AM, an aerosol monitoring mission for the Government of India.
More information may be found in these recent news articles:
http://news.bbc.co.uk/1/hi/science_and_environment/10599774.stm
http://www.forskning.no/artikler/2010/juli/255741
http://www.spaceflightnow.com/news/n1007/12pslv/
For more information about the status of Nanosatellite Launch Service 6
(NLS-6):
Low-Cost Launch Service