Space Flight Laboratory (SFL) Wins NASA Rapid Spacecraft Acquisition Contract for Small Satellites
TORONTO, Ontario, Canada, 23 February 2022 – Space Flight Laboratory (SFL) has been awarded a contract under the NASA Rapid Spacecraft Acquisition IV (Rapid IV) contracting vehicle to provide small satellites to NASA centers and other U.S. government agencies. The indefinite-delivery, indefinite-quantity contract includes SFL's space-proven DEFIANT and DAUNTLESS satellite platforms.
SFL is one of three satellite developers to win 2022 Rapid IV on-ramp contracts, which are effective February 15, 2022, through August 31, 2025. Managed by the Rapid Spacecraft Development Office (RSDO) at NASA Goddard Space Center, the Rapid IV program gives the U.S. government a fast and flexible means to procure spacecraft tailored to meet specific missions under firm-fixed price delivery orders.
"SFL is proud to support NASA in enabling the U.S. government to achieve a greater return on its investment in small satellite missions," said Dr. Robert E. Zee, SFL Director. "Our small spacecraft have logged more than 177 operational years in orbit to date."
Established in 1998 at the University of Toronto Institute for Aerospace Studies (UTIAS), SFL is a unique microspace provider that offers a complete suite of nano-, micro- and small satellites – including high-performance, low-cost CubeSats – that satisfy the needs of a broad range of mission types from 3 to 500 kilograms.
These include the two fully scalable SFL platforms selected for inclusion in the Rapid IV program: DEFIANT is a 20-50kg bus that is considered a small microsatellite. The DAUNTLESS platform spans 50 to 500kg and is referred to as a large microsatellite at 50-100kg or a small (mini) satellite at 100-500kg.
SFL's on-orbit heritage includes 48 operational successes and 34 currently under construction or awaiting launch. These missions relate to Earth observation, atmospheric monitoring, ship tracking, communication, radio frequency (RF) geolocation, technology demonstration, space astronomy, solar physics, space plasma, and other scientific research.
In its 24-year history, SFL has developed CubeSats, nanosatellites, and microsatellites that have achieved more than 177 cumulative years of operation in orbit. These microspace missions have included SFL's trusted attitude control and, in some cases, formation-flying capabilities. Other core SFL-developed components include modular (scalable) power systems, onboard radios, flight computers, and control software.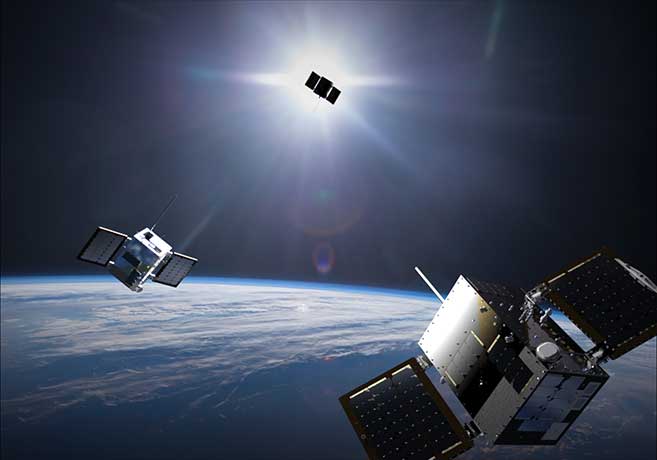 About Space Flight Laboratory (SFL) (www.utias-sfl.net)
SFL generates bigger returns from smaller, lower cost satellites. Small satellites built by SFL consistently push the performance envelope and disrupt the traditional cost paradigm. Satellites are built with advanced power systems, stringent attitude control and high-volume data capacity that are striking relative to the budget. SFL arranges launches globally and maintains a mission control center accessing ground stations worldwide. The pioneering and barrier-breaking work of SFL is a key enabler to tomorrow's cost-aggressive satellite constellations. (www.utias-sfl.net)
Download the specification sheet for all SFL platforms here.
SFL Contact:
Dr. Robert E. Zee
SFL Director
1-416-667-7400
Follow SFL on Twitter @SFL_SmallerSats