MOST: Design Overview
December 10, 2013
The MOST satellite design originates from trying to fit as large a telescope as possible, all the electronics to interface with the telescope, the satellite bus equipment that allows the storage and transmission of the science data to the ground, the ACS hardware that is required to maintain better than 25 arcsecond pointing accuracy for the telescope, and a power system to provide enough power to the satellite, all into a package that can meet the requirements for launch as a secondary payload on a Delta II launch vehicle (with Radarsat-2 as the primary payload). It probably bears little resemblance to the satellite design that would have resulted had a launch on the Rockot been planned from Day 1. However, that is the nature of microsatellite design.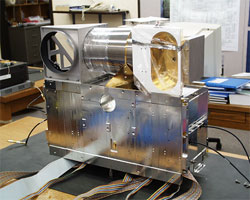 The telescope is a 15cm diameter aperture Maksutov telescope. A periscope mirror allows the long axis of the telescope to lie perpendicular to the aperture of the telscope and therefore fit into the Delta II secondary payload physical constraints. Attached to the telescope, separate from the satellite bus structure, is a two stage passive cryocooler that is capable of maintaining the focal plane of the telescope at a temperature of -40°C. Covering the aperture of the telescope is a door that is designed to actively close to protect the instrument focal plane from direct sunlight.
The satellite structure is based on a tray stack design. The structure consists of aluminum trays that house the satellite's electronics, battery, radios, and attitude actuators. These trays are stacked forming the structural backbone of the satellite. To this backbone, the telescope is mounted with its barrel parallel to the axis of the stack. Six aluminum honeycomb panels, acting as substrates for solar cells and carriers for attitude sensors, enclose the tray stack/telescope assembly. An actuated telescope door mounted on the star facing side of the satellite protects the telescope focal plane from direct stares at the Sun should the satellite tumble or lose attitude lock.