MOST: Ground Stations
December 10, 2013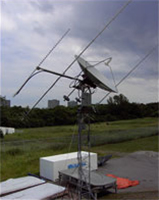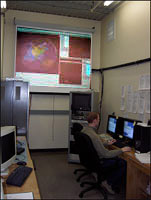 Three ground stations in Toronto, Vancouver and Vienna are used to download data from MOST. The primary control station is in Toronto while the secondary stations (Vancouver and Vienna) are controlled and coordinated over the Internet. Although the basic mission can be accomplished with just one ground station, additional science data can be acquired using the secondary stations.
The stations used for MOST communications are based on an amateur radio core station operating at VHF and UHF frequencies. They are upgraded with S-band transverters and BPSK transceivers connected to a 2-m parabolic antenna (downlink) and a 45 element loop yagi (uplink). The antennas are mounted on a heavy-duty, precisely controlled rotator located atop a 20-foot tower.
The ground station radios are connected to a custom terminal node controller (combination modem and serial communications controller) which is in turn connected to a computer that coordinates multiple terminals each running interface software for specific components on the satellite. Through this system, terminal users have a virtual link to their satellite hardware of interest. The terminal node controller also generates "firecodes" or emergency commands to reset satellite hardware. A "timing tick" generator is used to maintain knowledge of clock drift in the instrument computers so as to accurately time tag science observations.