MOST: The Team
December 10, 2013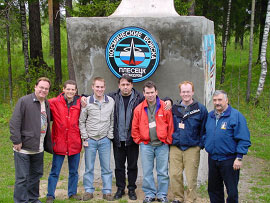 A team has been assembled that has the technical background necessary to develop the elements of the MOST mission, and to conduct the scientific research at the heart of the mission. The composition of the team reflects additional, programmatic objectives of the Canadian Space Agency's Small Payloads Program, such as to develop a Canadian industrial ability to produce low-cost space science missions based on microsatellite buses, and to involve universities in the development process.
Science Team
The Mission Scientist for MOST is Professor Jaymie Matthews, of the Department of Physics and Astronomy at the University of British Columbia. Co-investigators include Gordon Walker (University of British Columbia), Slavek Rucinski (Canada-France-Hawaii Telescope), Professor Anthony Moffat (Université de Montréal), Dimitar Sasselov (Harvard-Smithsonian Center for Astrophysics), David Guenther (Saint Mary's University, Halifax), and Werner Weiss (University of Vienna, Austria). This science team is developing the mission's detailed science requirements, as well as new theoretical stellar models to exploit photometric data whose precision is two orders of magnitude better than what has been possible from the ground.
Instrument Team

CresTech Dr. Matthews is also the Principal Investigator for the MOST mission, responsible for the design and construction of the instrument. A team of optical, mechanical and electronics engineers has been assembled at UBC, who already have a strong track record in CCD instrumentation for many of the world's largest and most advanced ground based telescopes. The UBC team also benefits from the assistance of the Ontario Centre for Earth and Environmental Technologies (ETech), which has expertise in structural design and instrument testing. This ETech Instrument Services Laboratory was privatized during the course of the MOST project and is now Spectral Applied Research.
Spacecraft Team

AMSATThe structure, thermal, on-board computers and telemetry & command systems, along with the ground stations, have been developed by the University of Toronto Institute for Aerospace Studies' Space Flight Laboratory (UTIAS/SFL). The UTIAS/SFL has also led the spacecraft integration and test effort, and played a critical role in the launch campaign, commissioning and operation of the satellite. The UTIAS team is led by Dr. Robert E. Zee. UTIAS/SFLhas received direct mentoring from AMSAT North America (AMSAT-NA), with support from AeroAstro.
In affiliation with AMSAT-NA, the design approach used in AMSAT's Microsat series of satellites has been adapted for use by MOST. UTIAS/SFL has also established facilities to support the development of microspace missions, such as computing facilities, assembly, integration and test facilities, three-axis motion table for attitude control testing, microsatellite simulators, thermal cycle and vacuum chambers, clean room, and ground stations to operate these missions.
Other Web Sites on MOST
MOST – Canadian Space Agency
MOST Science Team – Department of Physics and Astronomy, University of British Columbia