CanX-1: System
The design of the basic CanX nanosatellite bus has been made as flexible as possible with future missions in mind. It is able to incorporate any payload that meets the power restrictions of the nanosatellite, while allocating up to 50% of the volume and 25% of the mass to payloads. Access to the satellite exterior is possible through different solar array designs. Larger payloads can be accommodated by enlarging the structure of the basic CanX bus, and by adopting a suitable launch separation system.
CMOS Imager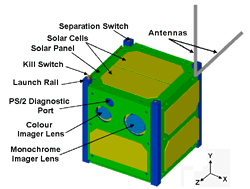 The imaging system is comprised of color and monochrome CMOS imagers built around chips from Agilent Technologies. Both communicate with the On-Board Computer (OBC) and are used for ground-controlled horizon sensing and star-tracking experiments.
Active Three-Axis Magnetic Stabilization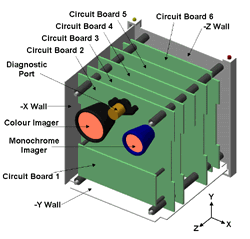 Three custom magnetorquer coils and a Honeywell three-axis digital magnetometer are used in conjunction with a B-dot control algorithm for spacecraft detumbling and coarse pointing experiments.
GPS Position Determination
Accurate position determination is accomplished using a low-cost commercial Global Positioning System (GPS) receiver that has been modified to work in low Earth orbit.
ARM7 On-Board Computer
Housekeeping and payload application routines run on a powerful ARM7 On-Board Computer. The computer also implements B-dot detumbling and error-detection and correction algorithms. The Atmel ARM7 OBC operates at 3.3 V, consumes 0.4 W at a speed of 40 MHz, and is equipped with 512 KB of Static-RAM and 32 MB of Flash-RAM.
All software is custom-written in C. To reduce CanX-1 mission complexity, no operating system is used. The OBC is capable of running a real-time operating system, however, such as eCos. This feature will enable more complex missions in the future.
Telemetry and Command
Telemetry and command is handled by a half-duplex transceiver operating on fixed frequencies in the 430 MHz amateur satellite band in accordance with IARU guidelines and ITU regulations. The 500 mW transmitter downlinks data and telemetry at 1200 bps using a MSK over FM signal (it appears as two tones, 1.2 kHz and 1.8 kHz at baseband, alternating rapidly). The antenna system consists of two quarter-wave monopole antennas oriented at 90° and combined in phase to produce a linearly polarized signal. The amateur call sign used by CanX-1 is VA3SFL.
Triple-Junction Solar Cells and Lithium-Ion Power
The satellite and its payloads are powered by Emcore triple-junction cells (26% maximum efficiency). Energy is stored in a Polystor 3.7 V, 3600 mAh lithium-ion battery pack to handle peak loads and provide power during eclipse periods. In addition, the power system incorporates peak-power tracking, over-current protection, power shunting, and an emergency load shed system.
Aluminum 7075 & 6061-T6 Structure
The total mass of the satellite structure including the frame, all exterior surfaces, and internal mounting hardware is 373 g, or 37% of the total satellite mass. Simulations with 12 G loads showed a 30% margin to the maximum allowable stress, while thermal analysis predicted a -20 to +40°C temperature range using passive thermal control. Vibration testing was performed on the satellite at MDRobotics. The "heavy structure" design resulted in a first natural frequency of approximately 800 Hz.