CanX-2: Science Payloads
December 11, 2013
Atmospheric Spectrometer
The Atmospheric Spectrometer, developed by Dr. Brendan Quine of York University, is an Earth imaging spectrometer. It provides measurements of airborne greenhouse gases to support the goals of the Kyoto protocol. The payload operates in the near infrared band using Earthshine spectra. It features a surface resolution of 1 km, which will enable the identification of local variation and sources of pollution emission. The data collected will be used initially to detect major sources and local variation of pollution, and subsequently to create better computer models of pollution distribution.
GPS Signal Occultation Experiment
The GPS Signal Occultation Experiment is designed by Dr. Susan Skone of the University of Calgary. Through the use of a dual-frequency GPS receiver and a directional antenna mounted on the outer surface of the satellite, measurements are made of Global Positioning System radio signals as the GPS satellites are occulted by the Earth's atmosphere. These signals refract during occultation, introducing a delay in the signal. Data from ground-based GPS stations are used in conjunction with the space-borne data, and differential GPS processing methods are employed, to recover atmospheric properties such as total electron content and tropospheric water vapour as a function of altitude. These properties can be used to model the atmosphere and generate 4-D electron density profiles. These models can be used to help mitigate GPS positioning errors during periods of enhanced ionospheric activity and to monitor the development of auroral activity, magnetic substorms, and associated ionospheric disturbances that have an adverse impact on navigation and communications systems.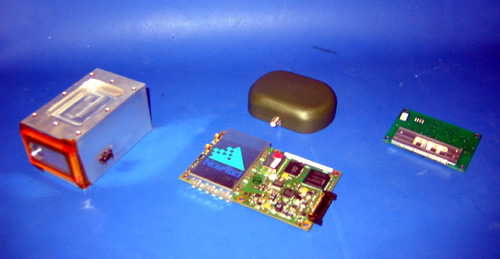 CanX-2 Science Payloads Left to Right: Atmospheric Spectrometer, Dual-Band GPS
Receiver and Antenna, Atomic Oxygen Material Degredation Experiment
Atomic Oxygen Material Degredation Experiment
The surface materials experiment for CanX-2 is provided by Dr. Jacob Kleiman of the University of Toronto. This experiment measures the degradation of a material sample exposed to the space environment. The sample is divided into two parts: one having been given a special surface treatment and another without surface treatment. The plan is to monitor the changes in sample thickness as a result of atomic oxygen erosion to evaluate the effectiveness of the special surface treatment.
Communications Protocol Experiment
A network communications experiment involving an innovative low Earth orbit (LEO) satellite communication protocol developed by Dr. Michel Barbeau of Carleton University is included in CanX-2. The protocols include a network layer and a transport layer. The network layer protocol comprises an algorithm using dynamic source routing. The satellite remains silent by default, and dynamically reacts when it perceives traffic. In a self-organizing network approach, a satellite can automatically make use of ground stations or other satellites, when they are available, to reach a given target. The transport layer protocol is called eXtended Satellite Transport Protocol (XSTP) and addresses data transport errors that occur specifically in LEO satellite links.