Special Projects: Radiation Test Program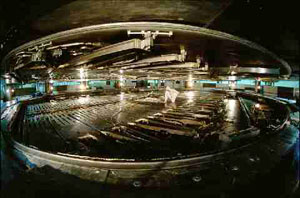 High performance, low power consumption, low cost, and availability are the principal attractive features of "Commercial Off The Shelf" (COTS) electronics. These devices are excellent choices for microsatellites in that they enable highly complex missions while allowing developers to achieve considerably lower cost and short development cycles when compared to traditional space missions.
The microsatellite approach typically favors obtaining a detailed understanding of the environment followed by good design rather than placing faith in "guarantees" provided by makers of radiation-hardened or space grade components. Part of this approach involves comprehending the manner in which the latest commercial technologies behave in the multifaceted radiation environment of space. The return for this effort is significant performance benefits and cost savings as a result of using leading edge, mass-produced components. Once a device is identified as having suitable performance characteristics for a microsatellite mission, its underlying technology is first studied within the context of how it might react to space radiation. It then undergoes rigorous qualification testing to ensure that the microsatellite designer is aware, to the extent possible, of its relative total dose and single event behavior.
The aim of the UTIAS/SFL radiation test program, with funding from the Center for Earth and Environmental Technologies (ETech) and MacDonald Dettwiler and Associates Limited, is to develop a comprehensive approach to adapt the latest high-performance COTS components for use in space through research and testing.
Typical tests estimate Single Event Upset (SEU) cross section and Single Event Latch-Up (SEL) characteristics in addition to Total Ionizing Dose (TID) tolerance. Together with application specific information such as the mission operations plan and the expected radiation profile, these findings can then be used to determine the mean time between SEU's, the mean time between SEL's, and the expected lifetime of the component. Also, techniques to mitigate radiation effects through shielding and other design strategies can be developed for specific technologies and applications.
Radiation tests may involve using proton beams with energies of up to 500MeV at external facilities such as TRIUMF (see photo). Throughout testing, devices are actively operated and monitored for SEU, SEL and TID. As appropriate, UTIAS/SFL engages in low-cost Cobalt-60 testing to determine the relative TID performance of various devices. Other external facilities, such as heavy-ion accelerators and neutron sources, may also be used depending upon the circumstances.
UTIAS/SFL recognizes the potential benefits and cost savings that arise from the use of COTS electronics in space missions. With its industrial and government partners, UTIAS/SFL is establishing a living knowledge base of radiation characteristics of modern COTS electronics. This knowledge, combined with novel mitigation strategies, serve to facilitate the use of promising COTS components in Earth orbit and beyond.
Funding Partners