MOST: Mission
The MOST Microsatellite: Canada's First Space Telescope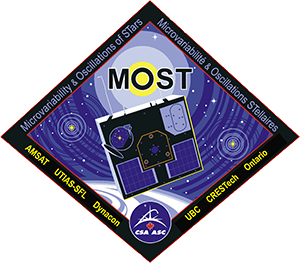 The MOST (Microvariability and Oscillations of STars) astronomy mission under the Canadian Space Agency's Small Payloads Program is Canada's first space science microsatellite and Canada's first space telescope.
The satellite's mission is to conduct long-duration stellar photometry observations in space. The primary science objectives include: measuring light intensity oscillations in solar type stars; determining the age of nearby "metal-poor sub-dwarf" stars, which in turn allows a lower limit to be set on the age of the Universe; and detecting the first reflected light from orbiting exoplanets and using it to determine the composition of their atmospheres.
To make these measurements, MOST incorporates into a microsatellite design a small (15 cm aperture), high-photometric-precision optical telescope and a high performance attitude control system that is revolutionary in its pointing accuracy for a microsatellite. MOST was successfully launched at 14:15 UTC 30 June 2003 on a "Rockot" launch vehicle from Plesetsk, Russia. The satellite was commissioned during the first few months after launch and is now in science operations mode, exceeding performance predictions.
Scientific Goals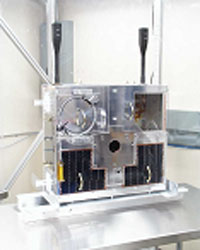 Size doesn't always matter. Stellar seismologists exploit extremely tiny surface vibrations of stars, detected through brightness oscillations with amplitudes of a few parts per million, to probe stars' hidden interiors and ages and address big questions such as "What is the age of the Universe?" A big telescope is not needed to study many of the Sun's nearer neighbours in the Galaxy, which are bright enough to provide large photon fluxes and high signal-to-noise. However, atmospheric turbulence plus the day/night cycles inherent to single-site ground-based observing mean that a telescope must be in space. Even there, a big budget is not necessary, if we take advantage of proven optical and detector technology and recent advances in microsatellite attitude control.
Until recently, performing optical astronomy experiments from a low-cost microsatellite (mass < 100 kg) was considered infeasible because of the poor pointing possible from a platform with such small inertia (approx. ± 2°). In 1997, anticipating new microsat attitude control technology, a team of astronomers and aerospace engineers first proposed to the Canadian Space Agency (CSA) a project to obtain astronomical photometry of unprecedented precision from a microsatellite. In the next year, MOST (Microvariablity and Oscillations of STars / Microvariabilité et Oscillations STellaire) was selected to be Canada's first science microsat, as part of the CSA Small Payloads Program. Additional funding was provided by the Ontario Research and Development Challenge Fund, the Natural Sciences and Engineering Reseach Council (NSERC), the Ontario Centre for Research in Earth and Space Technology and the Universities of Toronto, British Columbia and Vienna.

MOST features a small optical telescope (aperture = 15 cm) equipped with a CCD photometer designed to return unprecedented photometric precision (ΔL / L ~ 10-6) and frequency resolution (Δν~ 0.1 µHz) on stars other than the Sun. Given the fact that this instrument will be carried aboard a microsat bus about the size and mass of a suitcase, the Canadian public has come to know the MOST mission as the "Humble Space Telescope."
Probing Mysterious Planets: Following in Galileo's Footsteps
MOST was originally designed to detect rapid brightness oscillations in Sun-like stars, to seismically probe their interiors. However, once the project had passed the critical design phase, it was realised the MOST instrument was more sensitive and versatile than originally expected in Phase A. It also had the potential to detect reflected light from some of the giant planets recently discovered to be orbiting other nearby stars. The amount of light reflected and scattered back to Earth by such an exoplanet would vary during the planet's orbit, as it goes through illumination phases like those of the Moon or of Venus, as first observed telescopically by Galileo in the early 1600's. Therefore, in Phase C of the project, the MOST team added an exciting new science application, without changing the hardware or software design, or the selected orbit, and at no added cost.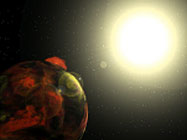 The amplitude and shape of the reflected light curve of an exoplanet depends on the planet's size, its orbital inclination and eccentricity, and most importantly, its atmospheric composition (which determines its albedo). However, the exoplanet signal is very subtle – about a part in 105 relative to the brightness of its parent star – with orbital periods of a few days for the exoplanets with the smallest orbits. Simulations by Green et al. (2003) indicate that MOST should be able to detect this signal for exoplanet systems like 51 Pegasi (the first solar-type planetary system to be discovered) and tau Bootis.
MOST would be the first instrument in history capable of detecting these signals and giving direct information about the atmospheres of these mysterious worlds. At the same time, data on the oscillations of the parent stars would specify the ages of these stellar/planetary systems – an important test of models of how these planets formed and evolved.
Funding Partners