Microsatellites: DMSat-1
Aerosol and Greenhouse Gas Monitoring
The DMSat-1 satellite is a 15-kilogram, 20x30x40cm microsatellite developed by the Space Flight Laboratory (SFL) for the Mohammend Bin Rashid Space Centre (MBRSC) in Dubai.
SFL's Next-generation Earth Monitoring and Observation (NEMO) platform technology, which incorporates high performance ground target tracking capability, is a key enabler for the mission.
DMSat-1 leverages past developments at SFL for a rapidly developed mission that will incorporate two payloads. The primary payload is a multispectral polarimeter used to monitor aerosols – fine particles of liquid and solids in the upper atmosphere normally caused by man-made sources, but also correlating to natural phenomena such as dust storms. The secondary instrument is a pair of spectrometers that will enable MBRSC to detect greenhouse gases like carbon dioxide and methane over the United Arab Emirates.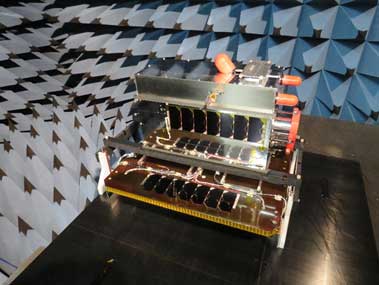 The key aerosol polarimeter specifications include:
Operates in three (3) bands: Blue (480-500 mm), Red (660-680 nm) and NIR (860-880nm)
Measures two polarization states 0 deg linear and 90 deg linear
1% accuracy in measurement of degree of linear polarization
Instrument resolution is 40 m @ 650km
12-bit image resolution
Image vignetting > 10% at edges of field of view
MTF >10% @ imaging resolution
SNR > 150 (>100 for NIR)
Image size – 35 x 97 km @ 650 km
Instrument images same target at up to 7 look angles, spaced minimum 30 secs apart.
1 observation run per day (average) producing up to 150 MB of data
The mission is designed to cover an area of up to 80,000 square kilometers each day and will be an important national asset for atmospheric monitoring.