About SFL: Partners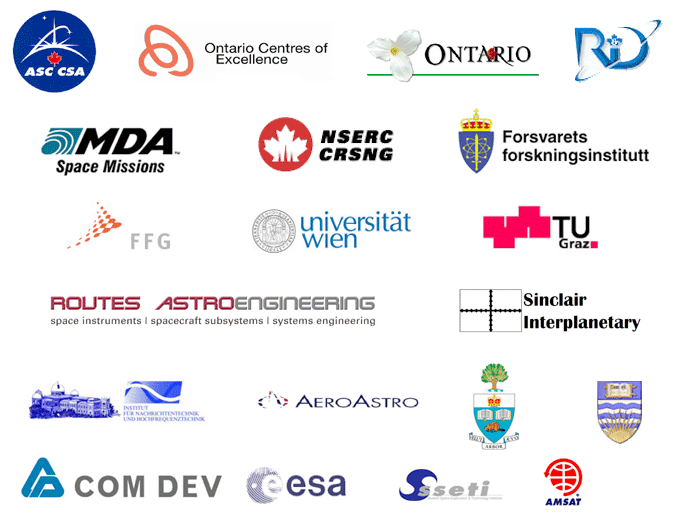 The Canadian Space Agency is committed to leading the development and application of space knowledge for thebenefit of Canadians and humanity.

DRDC Ottawa is one of six research centres within the national organization, Defence R&D Canada, an agency of the Department of National Defence. We
understand the defence environment and with over 60 years of experience in scientific research and development of applied technology, we are the leader in the exploitation of wireless and information technologies for defence applications.

Providing support for microsatellite research and development at the UTIAS Space Flight Laboratory through the Ontario Research and Development Challenge Fund.

NSERC's role is to make investments in people, discovery and innovation for the benefit of all Canadians. We invest in people by supporting more than 17,700 university students and postdoctoral fellows in their advanced studies. We promote discovery by funding more than 9,600 university
professors every year. And we help make innovation happen by encouraging more than 500 Canadian companies to invest in university research.

The Ontario Centres of Excellence (OCE), Centre for Earth and Environmental Technologies (ETech) delivers research excellence to Canada's environment,
resource management, and space sectors. As a leading network for innovation, ETech is committed to developing marketable technology and contributing to the advancement of a sustainable economy.


Norwegian Defence Research Establishment (FFI) is the prime institution responsible for defence-related research in Norway. The Establishment is also the chief adviser on defence-related science and technology to the Ministry of Defence and the Norwegian Armed Forces' military organization.


The Austrian Research Promotion Agency (FFG – Die Österreichische Forschungsförderungsgesellschaft GmbH) is one of the funding partners for the BRITE nanosatellite constellation.

Graz University of Technology (Technische Universität Graz) pursues top teaching and research in the fields of the engineering sciences and the technical-natural sciences.

Research and education at the University of Vienna encompasses a broad spectrum of scientific disciplines, ranging from theology, jurisprudence, economics, computer science, to the humanities and to the social and natural sciences.

With about 40 scientific staff members, the Institute of Communications and Radio-Frequency Engineering (INTHFT – Institut für Nachrichtentechnik und Hochfrequenztechnik) is one of the largest departments of the Faculty of Electrical Engineering and Information Technology at Vienna University of Technology.

Routes AstroEngineering designs and builds space science instruments and other spacecraft equipment, including solar panels, power control units, and large capacity spacecraft data storage products. Since being founded in 1988, Routes has developed equipment for free-flying satellites, Space Shuttle, International Space Station, and suborbital rocket payloads.

Founded in 2001 by Doug Sinclair, Sinclair Interplanetary is a supplier of hardware, software and expertise to the spacecraft community. The primary focus is on low-cost, rapid-schedule programs to produce micro- or nano-satellites.

MacDonald Dettwiler and Associates Space Missions, formerly known as MD Robotics, was formed May 7, 1999 following acquisition of the Spar Space Robotics operation from Spar Aerospace Limited. Located in Brampton,
Ontario, this new organization brings with it over 30
year's experience as a leader in space robotics.

AeroAstro combines revolutionary technologies and a unique systems engineering approach to provide dramatically lower cost spacecraft and components to government and commercial customers.
Great Minds for A Great Future – The University of Toronto is proud to contribute to the UTIAS Space Flight Laboratory and to take the lead in Canadian high-tech education through training the space systems engineers of tomorrow.

Professor Jaymie Matthews at the University of British Columbia (UBC) Department of Astronomy and Physics, is the Principal Scientific Investigator for the MOST Mission and leads a team of scientists and instrument designers in charge of the science mission and building the telescope for MOST.

The European Space Agency is Europe's gateway to
space. Its mission is to shape the development of Europe's space capability and ensure that investment in space continues to deliver benefits to the people of Europe.

The Student Space Exploration and Technology Initiative, SSETI, gathers more than 500 students from more than 15 universities located in European countries and Canada. The students are undergraduates, graduates or PhD students and they are designing and building satellites in close collaboration with the Education Department of ESA.

COM DEV manufactures advanced products and subsystems that are sold to major satellite builders for use in communications, space science, and remote sensing. Their technology is used on more than 650 spacecraft, including 80 percent of all commercial communications satellites ever launched.
AMSAT is a worldwide group of Amateur Radio Operators who share an active interest in building, launching and then communicating with each other through noncommercial Amateur Radio satellites. By any measure, AMSAT's track record in successful microsatellite missions has been impressive.