Space Flight Laboratory (SFL) Awarded Contract by GHGSat Inc. to Build Three More Greenhouse Gas Monitoring Microsatellites
TORONTO, Ontario, Canada, 16 November 2020 – Space Flight Laboratory (SFL), a developer of 52 distinct microspace missions, has been awarded a contract by GHGSat of Montreal to build the next three microsatellites in its commercial greenhouse gas monitoring constellation.

"SFL congratulates GHGSat on its success in providing commercial greenhouse gas monitoring services from space," said SFL Director, Dr. Robert E. Zee. "This contract highlights GHGSat's need to expand data collection capacity to meet the growing demand for its valuable services."

Greenhouse gas emissions detected and measured by the satellites are processed into emission reports and other products by GHGSat on behalf of a broad range of customers, including energy facilities, government agencies, and environmental organizations.

SFL built the pathfinding GHGSat-D (Claire) microsatellite launched in 2016 and then was awarded the contract by GHGSat Inc. to develop the first two commercial service satellites, GHGSat-C1 (Iris) and C2 (Hugo). Iris was launched in September 2020, and Hugo is slated for launch late this year. These satellites were all developed on the SFL 15-kilogram Next-generation Earth Monitoring and Observation (NEMO) microsatellite platform, as will be the case for the next three.

"SFL has proven their technical expertise with our first two satellites. We are looking forward to this next phase of our partnership to support the growth of GHGSat's constellation," said Stephane Germain, CEO of GHGSat.

In just two months since its launch, GHGSat-C1 has achieved remarkable results detecting small methane emissions from point sources on the ground. In one test area, the satellite pinpointed five separate methane emissions, two of which were smaller than 220 kg/hr, a notable performance improvement on GHGSat's demonstration satellite (Claire).

GHGSat-C1's ability to detect and measure small point sources of greenhouse gas emissions is due in part to the precise attitude control and target tracking capability of the SFL NEMO bus. Rare among satellite platforms of this size and relatively low cost, precise pointing of the onboard sensor is made possible by an accurate and stable platform – an important factor in SFL's selection to build the GHGSat microsatellites.

"We have a very mature, well-developed, and high-performance attitude control system that can handle various maneuvers and pointing modes with relative ease," said Zee. "We fine-tuned the attitude control required for GHGSat-C1 by leveraging the results from the GHGSat-D demonstration mission, and we will make continued advancements in the next GHGSat constellation."

Established at the University of Toronto Institute for Aerospace Studies (UTIAS) in 1998, SFL has developed CubeSats, nanosatellites, and microsatellites that have achieved more than 128 cumulative years of operation in orbit. These microspace missions have included SFL's trusted attitude control and, in some cases, formation-flying capabilities. Other core SFL-developed components include modular (scalable) power systems, onboard radios, flight computers, and control software.

SFL's heritage of on-orbit successes includes missions related to Earth observation, atmospheric monitoring, ship tracking and communication, radio frequency signal geolocation, technology demonstration, space astronomy, solar physics, space plasma, and other scientific research.

About Space Flight Laboratory
SFL generates bigger returns from smaller, lower cost satellites. Small satellites built by SFL consistently push the performance envelope and disrupt the traditional cost paradigm. Satellites are built with advanced power systems, stringent attitude control and high-volume data capacity that are striking relative to the budget. SFL arranges launches globally and maintains a mission control center accessing ground stations worldwide. The pioneering and barrier-breaking work of SFL is a key enabler to tomorrow's cost aggressive satellite constellations.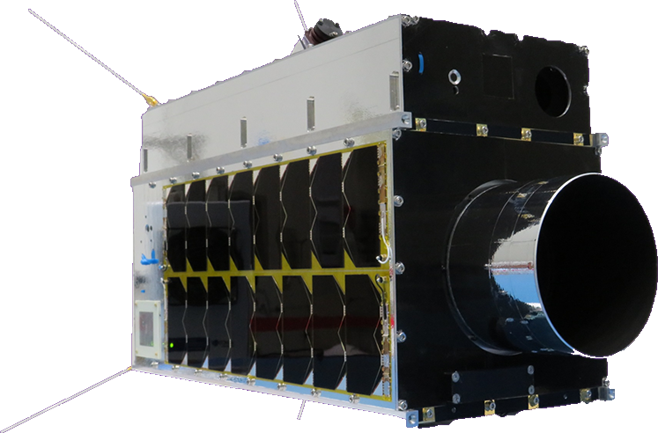 About GHGSat (www.ghgsat.com)
GHGSat uses its own satellites and aircraft sensors to measure greenhouse gas emissions directly from industrial sites; providing actionable insights to businesses, governments, and regulators. With proprietary remote-sensing and patented technology, GHGSat enables strategic decision making through monitoring and analytics services, with better accuracy, more frequently and at a fraction of the cost of other technologies. (www.ghgsat.com)
SFL Contact:
Dr. Robert E. Zee
SFL Director
1-416-667-7400
info@utias-sfl.net
Follow SFL on Twitter @SFL_SmallerSats