Blog – SFL Comprehensive Microspace Mission Development Includes Ground Segment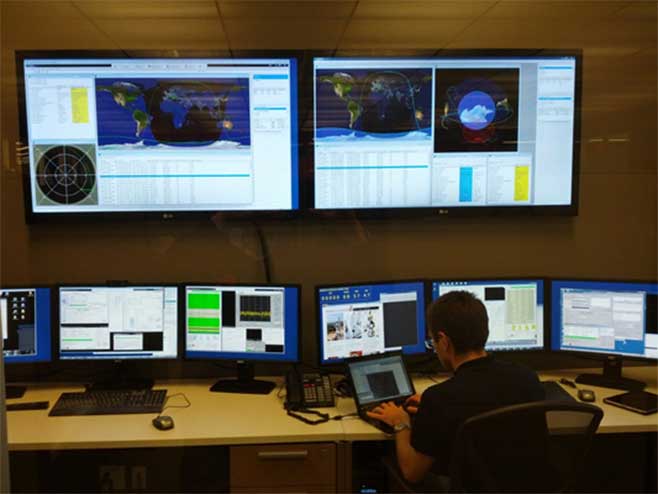 Throughout our 22-year history at SFL, we have taken great pride in our ability to deliver end-to-end microspace missions for our clients. This means that in addition to taking a CubeSat, nanosat or microsatellite concept from design and development to launch and commissioning, we also provide the ground segment as part of our comprehensive mission package.

The ground segment of a satellite mission traditionally refers to the Mission Control Center and the Ground Stations, or Earth Stations. Mission Control is the brain center equipped mainly with the computers, software, and displays where operations personnel issue commands that are transmitted to the satellite in orbit via one or more ground station(s).

As we all know, a ground station includes the radios, converters, amplifiers and antenna (sometimes a dish), that points to space and transmits commands to satellites. This antenna is a two-way communication device that also downlinks telemetry from spacecraft as well as payload data, such as images, files, and/or measurements for science, monitoring, communication, or Earth observation.
For some missions, there is a primary ground station that can be supported by a global network of others so that contact time can be increased to allow for more mission data to be downloaded.

SFL offers clients the flexibility of using our own Mission Control and ground station here in Toronto or having us support the build of a similar one at their location. This latter option gives them a dedicated facility to control their own satellite. In some cases, we have easily retrofitted existing ground stations to operate the satellites we have built. With either option, we use the same heritage-core hardware and software that we use for all of our missions and add straightforward customizations for the specific satellite and mission.

Over the past two decades, SFL has supported the installation of ground stations around the world. These stations are owned by various clients of SFL, but we can sometimes negotiate on behalf of new clients to incorporate one or more of these existing stations into their network under paid operations agreements. This arrangement gives clients the advantages of a global ground station network without the investment of building multiple facilities from the ground up.

It should also be added that some clients who need just one Mission Control Center and ground station simply contract with SFL for ongoing operations of their satellites from our Toronto facility, which is staffed 24/7 by experienced engineers.

By offering these ground segment options to our clients, we remove the worry that would otherwise come from requiring our clients to oversee construction of these facilities on their own. And with the plug-and-play nature of our Mission Control and ground station components, SFL clients can be confident every aspect of their mission is leveraging our 22 years of successful microspace operations.