Blog – What's Under Development at SFL? Commercial GHGSat and HE360 Missions

By Dr. Robert E. Zee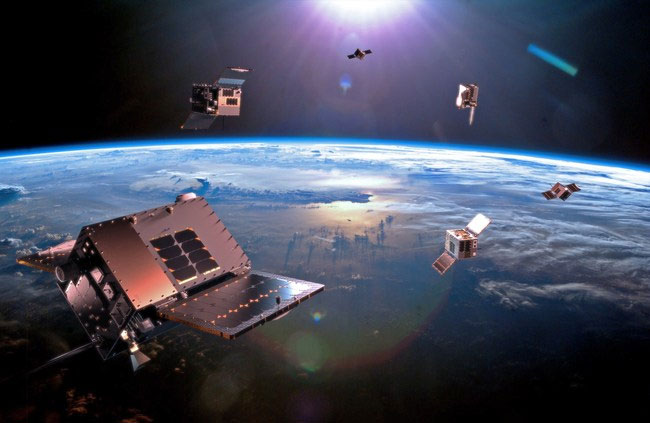 We have several microspace missions now under development at our facility in Toronto. These will serve a variety of Earth observation, radio frequency communications, and atmospheric monitoring applications in the commercial and government clients.

Two noteworthy projects are GHGSat-C1 and the HawkEye 360 commercial constellation. In both cases, SFL played important roles in the success of their demonstration missions. And both microsatellites leverage attitude control and precise pointing technologies that we created specifically for smaller satellites.

GHGSat-C1 – The first commercial microsatellite in a planned constellation being built for GHGSat Inc. of Montreal, GHGSat-C1 will monitor greenhouse gases emitted from sources on the ground. To detect and measure point emissions, such as area fugitive sources and stacks, it will require fine ground target tracking capability. This involves an onboard sensor pointing precisely at a target on the ground while the satellite slews in orbit to remain fixed on the spot for a certain period.

Our space-proven precise pointing technology is a major factor in winning these kinds of contracts. SFL was awarded the development contract after successfully building the experimental GHGSat-D (aka Claire) microsatellite launched in 2016. GHGSat-D achieved and exceeded the specifications required for its mission. (Read more here.)

Precise ground target tracking will enable GHGSat-C1 to be among the first microsatellites to test an onboard optical laser terminal for high-speed data downlink. The terminal will have a downlink communications capacity several times that of the standard RF link.

HawkEye 360 – In 2018, HawkEye 360 of Herndon, Va., launched its HawkEye Pathfinder mission, a constellation of three microsatellites flown in formation for radio-frequency detection and geolocations services. As a subcontractor, SFL built and integrated the Pathfinder microsatellite buses, which rely on our attitude and formation control technology for the three 15-kg satellites to maintain their proper configuration to make accurate geolocation measurements. Pathfinder is considered an overwhelming success.

To develop the technology needed to fly in formation, we developed control systems specifically for smaller satellites. The SFL team devised closely coupled sets of algorithms for attitude control, navigation, and formation control of the satellites. Attitude control and propulsion work together to keep the satellites in their intended orbital configurations with predefined baseline separation among them.
Based on this success, HawkEye 360 awarded us the prime contract to develop the next generation microsatellites for its commercial operations.