CanX-1
Canada's First Nanosatellite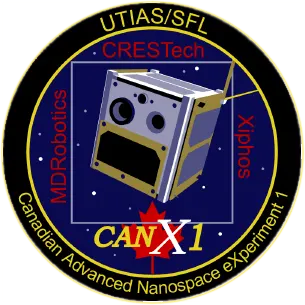 The Canadian Advanced Nanospace eXperiment 1 (CanX-1) is Canada's first nanosatellite. It was built by graduate students of the Space Flight Laboratory (SFL) at University of Toronto Institute for Aerospace Studies (UTIAS).
Launched on 30 June 2003 at 14:15 UTC by Eurockot Launch Services from Plesetsk, Russia, CanX-1 was one of the smallest satellites ever built. It had a mass under 1 kg, fit in a 10 cm cube, and operated with less than 2 W of power. Its mission was to evaluate several novel technologies in space, including a low-cost CMOS horizon sensor and star-tracker, active three-axis magnetic stabilization, GPS-based position determination, and an ARM7 central computer. CanX-1 was integrated with other satellites in a common Stanford/CalPoly P-POD launch tube. This integrated system was known as the Nanosatellite Launch System 1 (NLS-1).
The satellite was successfully deployed in orbit, but no signals were received.
Funding Partners