Space Flight Laboratory (SFL) Announces Launch of Nine Satellites Supporting Four Microspace Missions
TORONTO, Ontario, Canada, 15 April 2023 – Space Flight Laboratory (SFL), a developer of complete microspace missions, today announced the launch and successful deployment of nine satellites at 06:48 am UTC on 15 April 2023 (11:48 pm PDT, 14 April 2023). Launched from Vandenberg Space Force Base in California, the SpaceX Transporter-7 ride-sharing mission carried SFL-designed microspace platforms into orbit for four different repeat customers.
The Transporter-7 launch included:
HawkEye 360 Cluster 7, based on SFL's 30-kg DEFIANT platform, is comprised of three formation-flying, radio frequency geolocating microsatellites integrated at HawkEye 360 Inc.'s U.S. facility under SFL's Flex Production program.
Three next-generation greenhouse gas monitoring microsatellites, known as GHGSat-C6, C7 and C8, built by SFL on its 15-kg NEMO platform for GHGSat Inc. of Montreal, Canada.
NorSat-TD microsatellite built by SFL for the Norwegian Space Agency on SFL's DEFIANT platform to carry multiple advanced or experimental payloads.
Commercial communications CubeSats developed using the SFL 6U-XL SPARTAN design for a Toronto-based company.
Dating from 1998, SFL's 25-year heritage of on-orbit successes includes 69 operational missions, with an additional 21 under development or awaiting launch. Customized payloads include a wide range of applications related to Earth observation, atmospheric monitoring, ship tracking, communication, radio frequency (RF) geolocation, technology demonstration, space astronomy, solar physics, space plasma, and other scientific research.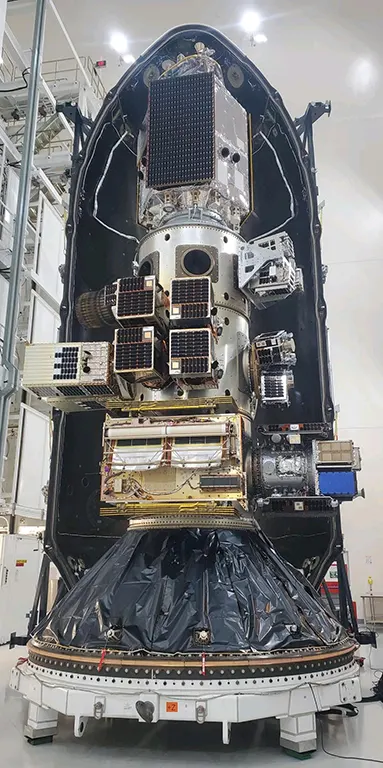 "These launches demonstrate SFL's unmatched ability to deliver quality at price points that are cost effective for both commercial and research missions," said SFL Director, Dr. Robert E. Zee. "SFL is a unique microspace provider that offers a complete suite of nano-, micro- and small satellites that incorporate advanced technology to expand application possibilities for a lower cost."
SFL was selected for the HawkEye 360 Constellation mission after the successful launch of the HawkEye 360 Pathfinder cluster in 2018 demonstrating SFL's advanced formation flying technology for multiple satellites – crucial for successful RF geolocation. SFL built Clusters 2, 3, 4, 5, and 6 on its 30-kg DEFIANT bus at the SFL Toronto headquarters. Under the Flex Production program, HawkEye 360 integrated Cluster 7 at its own newly built manufacturing facility with technical guidance from SFL.
SFL built and launched the pathfinding GHGSat-D ("Claire") atmospheric monitoring microsatellite for GHGSat Inc. in 2016, followed by GHGSat-1, -2, -3, -4 and -5 over the next six years. Successful detection of ground-based methane emissions from space is due in part to the precise attitude control and target tracking capability of the SFL NEMO bus. With this most recent successful launch, GHGSat's commercial greenhouse gas monitoring constellation now totals nine microsatellites providing widespread coverage.
NorSat-TD is the seventh satellite developed by SFL for the Norwegian Space Agency (NOSA). NorSat-TD represents impressive technological collaboration among several European nations. Multiple advanced or experimental payloads, including satellite collision avoidance and iodine-fueled electric propulsion, will see their first applications in orbit aboard this microsatellite.
The two communications CubeSats were assembled by the client at its own facility in Toronto using the SFL SPARTAN platform under the Flex Production program.
Throughout its history, SFL has developed small satellites, microsatellites, and nanosatellites that have achieved more than 235 cumulative years of operation in orbit. These microspace missions have included SFL's trusted attitude control and, in some cases, formation-flying capabilities. Other core SFL-developed components include modular (scalable) power systems, onboard radios, flight computers, and control software.
About Space Flight Laboratory (SFL)
SFL generates bigger returns from smaller, lower cost satellites. Small satellites built by SFL consistently push the performance envelope and disrupt the traditional cost paradigm. Satellites are built with advanced power systems, stringent attitude control and high-volume data capacity that are striking relative to the budget. SFL arranges launches globally and maintains a mission control center accessing ground stations worldwide. The pioneering and barrier-breaking work of SFL is a key enabler to tomorrow's cost-aggressive satellites and constellations.
Dr. Robert E. Zee
SFL Director
1-416-667-7400
info@utias-sfl.net
Follow SFL on Twitter @SFL_SmallerSats