MOST Team Wins Alouette Award 2008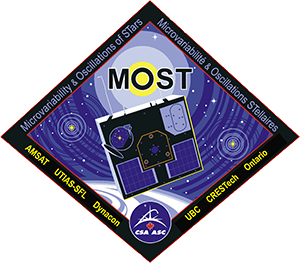 MICROVARIABILITY and OSCILLATIONS OF STARS
The 2008 CASI Alouette Award has been conferred to the MOST Team in recognition of the project's outstanding contribution to the advancement of Canadian space technology, applications, science and engineering.
On June 30, 2003, Canada's first Canadian-built science satellite in over 35 years was launched into space. By successfully carrying out its goals, the Microvariability and Oscillations of Stars (MOST) mission has achieved unprecedented pointing accuracy for a microsatellite and allowed university and private sector participants to develop skills and technologies that will be of benefit to Canada in future programs. In the first year of operations, the MOST team made improvements to on-board software that now allow up to 30 stars to be observed simultaneously versus the original goal of observing one at a time. The MOST mission has gained international recognition for its achievements and has helped Canada become a world leader in microspace missions. It has contributed to scientific knowledge and raised new questions about stellar structure and dynamics. The satellite has been first to make several astronomical discoveries that have shaken the scientific community. It has accomplished all this with a very modest budget compared to similar missions – 10 million dollars to develop and launch.
Contributing members of the MOST Project Team, past and present, are gratefully acknowledged below:
Customer
Name
Organization
Role
Glen Campbell
Canadian Space Agency
Program Manager
Darius Nikanpour
Canadian Space Agency
Thermal Analysis
Glen Rumbold
Canadian Space Agency
CSA Program Architect
Satellite Integration/Test, Computers, Communications
Structure, Thermal, Operations
Name
Organization
Role
Alexander M. Beattie
UTIAS Space Flight Laboratory
Communications Engineer
Thierry Cherpillod
UTIAS Space Flight Laboratory
Electronics
Hugh G. Chesser
UTIAS Space Flight Laboratory
Mechanical Engineer
Daniel G. Foisy
UTIAS Space Flight Laboratory
Computer Engineer
Tiger Jeans
UTIAS Space Flight Laboratory
Operations
Daniel D. Kekez
UTIAS Space Flight Laboratory
Operations
Andre E. Laurent
UTIAS Space Flight Laboratory
Electronics Engineer
Tyler Paradis
UTIAS Space Flight Laboratory
Communications Engineer
Sangtak Park
UTIAS Space Flight Laboratory
Operations
Freddy M. Pranajaya
UTIAS Space Flight Laboratory
Integration Support
Dr. Robert E. Zee
UTIAS Space Flight Laboratory
SFL Project Manager
Students
Name
Organization
Role
Remi Duquette
UTIAS Space Flight Laboratory
Grad Student
Laura Halliday
UTIAS Space Flight Laboratory
Grad Student
Noah Hansen
UTIAS Space Flight Laboratory
Grad Student
Jamie Wells
UTIAS Space Flight Laboratory
Grad Student
Ramesh Abhari
UTIAS Space Flight Laboratory
Microsat Course Student
Peter Bade
UTIAS Space Flight Laboratory
Microsat Course Student
David Cassan
UTIAS Space Flight Laboratory
Microsat Course Student
Fred Cowan
UTIAS Space Flight Laboratory
Microsat Course Student
Patrick Doyle
UTIAS Space Flight Laboratory
Microsat Course Student
Wassim El-Hage
UTIAS Space Flight Laboratory
Microsat Course Student
Bruce Fenton
UTIAS Space Flight Laboratory
Microsat Course Student
Daniel Foisy
UTIAS Space Flight Laboratory
Microsat Course Student
Brigette Hesman
UTIAS Space Flight Laboratory
Microsat Course Student
Opale Hullen
UTIAS Space Flight Laboratory
Microsat Course Student
Jung Taek Jeon
UTIAS Space Flight Laboratory
Microsat Course Student
Fadil Khouli
UTIAS Space Flight Laboratory
Microsat Course Student
Rick Kubowicz
UTIAS Space Flight Laboratory
Microsat Course Student
Chantal Lamontagne
UTIAS Space Flight Laboratory
Microsat Course Student
Christopher Langley
UTIAS Space Flight Laboratory
Microsat Course Student
James Maligeorgos
UTIAS Space Flight Laboratory
Microsat Course Student
Ramesh Mantha
UTIAS Space Flight Laboratory
Microsat Course Student
Jennifer O'Neill
UTIAS Space Flight Laboratory
Microsat Course Student
Andrew Pavacic
UTIAS Space Flight Laboratory
Microsat Course Student
Atsuhiko Sakurai
UTIAS Space Flight Laboratory
Microsat Course Student
Rajnish Saxena
UTIAS Space Flight Laboratory
Microsat Course Student
Nirmal Sohi
UTIAS Space Flight Laboratory
Microsat Course Student
Corey Steininger
UTIAS Space Flight Laboratory
Microsat Course Student
Lukas Stras
UTIAS Space Flight Laboratory
Microsat Course Student
Peter Villalta
UTIAS Space Flight Laboratory
Microsat Course Student
Ivan Yue
UTIAS Space Flight Laboratory
Microsat Course Student
Prime Contractor, Attitude Control, Power System
Name
Organization
Role
Georgeta Bauer
Dynacon Inc.
Power Engineer
Dr. Kieran A. Carroll
Dynacon Inc.
Co-creator
Jillian Darroch
Dynacon Inc.
Mechanical Engineer
Dr. Michael Dolganov
Dynacon Inc.
Electronics Engineer
Daniel R. Faber
Dynacon Inc.
Satellite Operator
Dr. Simon C. O. Grocott
Dynacon Inc.
Project Manager
Noah H. Hansen
Dynacon Inc.
Research Engineer
Paul Harrison
Dynacon Inc.
Controls Engineer
Dr. Donald J. McTavish
Dynacon Inc.
Controls Engineer
Eric D. Morrow
Dynacon Inc.
Controls Engineer
Dr. Glen B. Sincarsin
Dynacon Inc.
Program Manager
Wayne G. Sincarsin
Dynacon Inc.
Mechanical Design
Doug Sinclair
Dynacon Inc.
Power Engineer
Peter Stibrany
Dynacon Inc.
Project Manager
Ron Wessels
Dynacon Inc.
Software Engineer
Science Team
Name
Organization
Role
Prof. David Guenther
St. Mary's University
Science Team Member
Dr. Rainer Kuschnig
UBC
Instrument Scientist
Dr. Jaymie M. Matthews
UBC
Principal Investigator
Prof. Anthony Moffat
Universite de Montreal
Science Team Member
Dr. Slavek Rucinski
OCE/CRESTech
Co-creator
Dr. Dimitar Sasselov
Harvard Smithsonian CFA
Science Team Member
Dr. Gordon Walker
UBC
Instrument Development
Prof. Werner Weiss
University of Vienna
Science Team Member
Provincial Finance
Name
Organization
Role
Dr. Ian Rowe
OCE/CRESTech
Finance
Richard Worsfold
OCE/CRESTech
Finance
Instrument
Name
Organization
Role
Dr. Greg Burley
Burley Scientific
CCD Readout Electronics
Chris Cameron
UBC
Data Processing & Analysis
Peter Ceravolo
Ceravolo Optical Systems
Optics
Donna Lee Desaulniers
Consultant
Anti-reflective coatings
John Harron
Spectral Applied Research
Instrument Developer
Dr. Charles Hersom
Spectral Applied Research
Instrument Developer
Jordan Johnson
UBC
Ground Station Operations
Ron Johnson
UBC
Instrument Electronics
Heather King
UBC
Data Processing & Archiving
Mayes Mullins
Mayes Mullins Enterprises
Telescope Structural Design
John Pazder
UBC
Optical Design
Dr. Jason Rowe
UBC
Data Processing & Analysis
Dr. Evgenya Shkolnik
UBC
Target Preparation
Dr. Peter Sinclair
Spectral Applied Research
Instrument Developer
Kristy Skaret
UBC
Radiation Analysis
Ken Smith
Routes Inc.
Aperture Door Developer
Don Sturgeon
Spectral Applied Research
Instrument Developer
Software
Name
Organization
Role
Henry Spencer
SP Systems
Software Architect
Andrew Walker
Sumus
Software Developer
Microspace Consultants
Name
Organization
Role
Keith Baker
AMSAT
Program Advisor
Tom Clarke
AMSAT
RF Systems Engineer
Rick Fleeter
AeroAstro
Management Consultant
Bdale Garbee
AMSAT
Software
Chuck Green
AMSAT
Electronics Assembly
Robin Haighton
AMSAT
Canadian Coordinator
Dick Jansson
AMSAT
Thermal Engineer
Lyle Johnson
AMSAT
Software
Mark Kanawati
AMSAT
Computers
Jan King
AMSAT
Systems Engineer
David Lieberman
AMSAT
Program Advisor
Dino Lorenzini
AMSAT
Computers
Lou McFadin
AMSAT
Facilities
Harold Price
AMSAT
Software
Bill Tynan
AMSAT
Program Advisor
Jim White
AMSAT
Software