GHGSat Reports Smallest Methane Emission Ever Detected from Space with Microsatellite Developed by Space Flight Laboratory (SFL)
TORONTO, Ontario, Canada, 21 October 2020 – Space Flight Laboratory (SFL), a developer of 53 distinct microspace missions, is pleased to announce the successful measurement of atmospheric methane by the GHGSat-C1 greenhouse gas monitoring microsatellite that utilizes a NEMO platform developed by SFL. The methane emission from a source on the Earth's surface is the smallest ever detected by satellite, confirmed GHGSat Inc. of Montreal.

Less than a week after the September launch of GHGSat-C1 ('Iris'), GHGSat Inc. recorded the microsatellite's first successful measurement of a methane emission from a known oil and gas facility in Turkmenistan. A week later, the satellite operator tasked Iris to measure a much smaller, controlled methane release from a test site in Alberta, Canada. The satellite-based measurement was successful and confirmed with an airborne sensor.

"Results indicate initial performance [of GHGSat-C1] is five times better than GHGSat-D," said GHGSat Inc. President Stephane Germain, referring to the GHGSat demonstration mission launched in 2016.
GHGSat Inc. created the sample image by colorizing the methane concentration measurements that exceeded normal background levels captured over the Alberta test site. The colorized measurements are overlaid on an aerial photograph to provide context.

GHGSat-C1 ('Iris') was launched on September 2, 2020, aboard an Arianespace Vega rocket from the Guiana Space Center in French Guiana. Also on that launch was NEMO-HD, an Earth observation microsatellite built by SFL for Slovenia.

"The successful measurement of methane concentrations in the air above the oil and gas facility indicates the advanced microsatellite attitude control and precise point technologies developed by SFL and built into GHGSat-C1 are functioning as designed," said SFL Director Dr. Robert E. Zee.

Precise attitude control and sensor pointing are critical to the success of an atmospheric monitoring microsatellite like GHGSat-C1. The 20x30x40-centimeter satellite must keep its greenhouse gas measuring spectrometer pointed at an area of interest on the ground as the satellite continues on its path.
"We have a very mature and high-performance attitude control system that can handle various maneuvers and pointing modes with relative ease" said Zee. "In particular, we fine-tuned the attitude control required for GHGSat-C1 by leveraging the results from the GHGSat-D demonstration mission in 2016."

GHGSat Inc. awarded SFL the development contract for GHGSat-C1 after building the pathfinding GHGSat-D ("Claire") microsatellite in 2016. Using high-precision target tracking capabilities developed by SFL, Claire successfully demonstrated that sources of methane and other gas emissions could be detected and measured from space. SFL is currently developing another microsatellite, GHGSat-C2, for the company.

Established at the University of Toronto Institute for Aerospace Studies (UTIAS) in 1998, SFL has developed CubeSats, nanosatellites, and microsatellites that have achieved more than 128 cumulative years of operation in orbit. These microspace missions have included SFL's trusted attitude control and, in some cases, formation-flying capabilities. Other core SFL-developed components include modular (scalable) power systems, onboard radios, flight computers, and control software.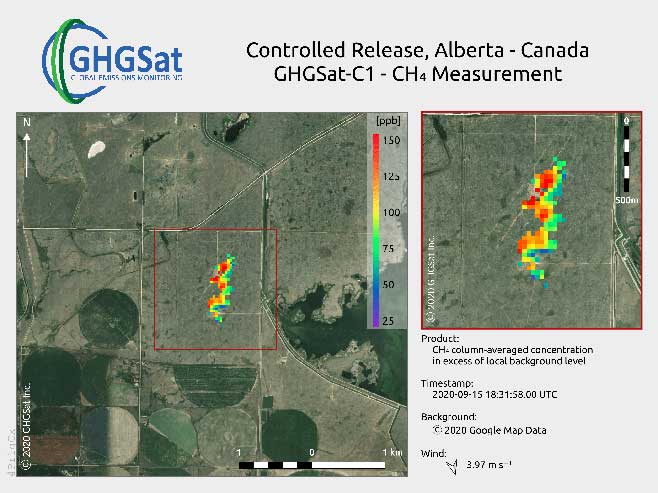 About Space Flight Laboratory
SFL generates bigger returns from smaller, lower cost satellites. Small satellites built by SFL consistently push the performance envelope and disrupt the traditional cost paradigm. Satellites are built with advanced power systems, stringent attitude control and high-volume data capacity that are striking relative to the budget. SFL arranges launches globally and maintains a mission control center accessing ground stations worldwide. The pioneering and barrier-breaking work of SFL is a key enabler to tomorrow's cost aggressive satellite constellations.

SFL Contact:
Dr. Robert E. Zee
SFL Director
1-416-667-7400
info@utias-sfl.net
Follow SFL on Twitter @SFL_SmallerSats