SFL Makes Top Ten list of Satellite Solution Providers list by "Aerospace & Defense Review" magazine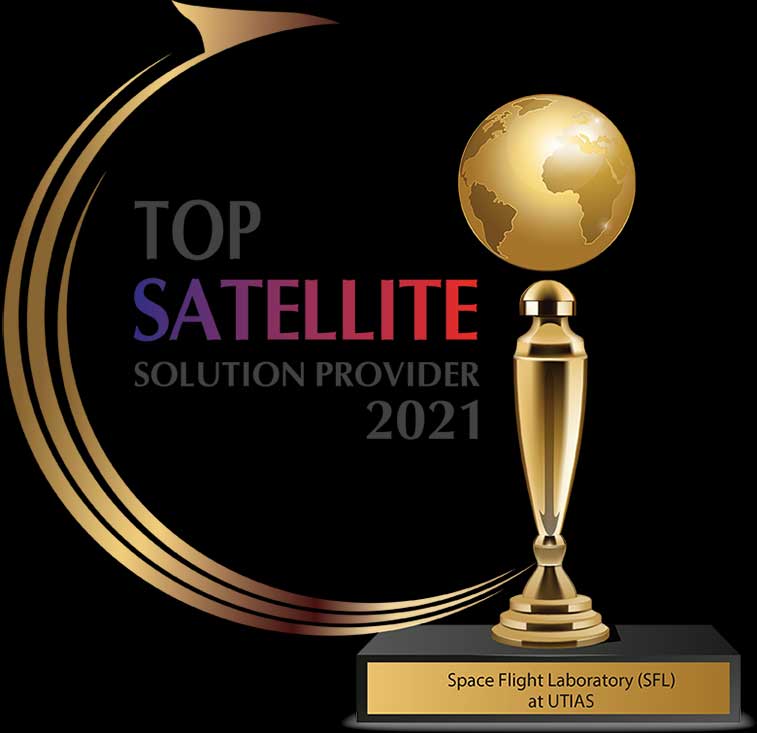 Space Flight Laboratory (SFL) at UTIAS in Toronto specializes in building high-performance, low-cost small, micro-and nanosatellites. SFL supports the entire 'Microspace' development process, a highly focused, small team approach to building spacecraft.
The "New Space" industry offers space-based imaging, communications, and connectivity at attractive price points not seen before.
A New Space business model is service-oriented and typically involves a large constellation of satellites (more than two dozen), necessitating the need to bring satellite manufacturing in-house for cost reasons. But what has enabled the New Space revolution? The answer is the "Microspace" way, a precursor to and a facilitator of New Space. Even though microsatellites (satellites with mass less than 100kg) existed several decades back, they were, at the time, considered novelties with limited practical utility due to the lack of attitude control technologies. When the microsatellite market began heating up at the turn of the millennium, practical and financial barriers were broken with microelectronics and sensor technology advancements. This ushered in a new era of low-cost approaches to spacecraft development called "Microspace." By adopting commercial-off-the-shelf technologies, Microspace facilitates aggressive and early prototyping and testing, rapid schedules, and focused objectives fulfilled by lean engineering teams. As opposed to Big Space, this approach yields fast, inexpensive missions that track modern technology curves much more closely than conventional satellite programs. The Microspace approach has helped satellite developers re-evaluate the standardized approach and transform the traditional process of satellite manufacturing into something much more focused and efficient.
"From our initial days, we have always aimed at delivering smaller, high-quality satellites for bigger return at lower cost. We have been completing missions worldwide, enabling companies, government departments, and research institutions to execute missions at lower costs that fit their stringent budgets," states Dr. Robert E Zee, the Director at SFL.
As is rightly observed, satellite development hinges on three major components — cost, schedule, and performance. In response, SFL's Microspace approach helps deliver superior satellites with quality assurance programs to align with clients' needs. SFL leverages commercial-off the- shelf technologies and heritage in-house technologies to complete projects at lower cost and in a timely manner without compromising on quality. All SFL satellites are built under a philosophy that emphasizes robust design and thorough testing. "We are not delivering satellites that only look good on paper, but satellites that actually work, satellites that our clients can count on," Dr. Zee adds.
What truly empowers SFL in delivering improved satellites is its small, tightly integrated, collocated teams. They follow a streamlined methodology, thereby reducing the amount of documentation and improving communication during projects. These teams are highly focused and purpose-driven in the processes they follow and the tests they perform in building superior-quality spacecraft to fulfill clients' needs. "Microspace is about understanding the metrics of quality and achieving requirements without relying solely on parts certification and process-heavy solutions," adds Dr. Zee.
Not only does SFL build satellites, but it arranges launches, commissions satellites, and supports the operation of satellites at the request of its customers. Over the years, SFL has been recognized internationally for its ultra-low-cost yet high-performance missions. SFL continuously strives to mitigate spacecraft developers' technical and financial risk. It brings together both existing and newer technologies to concurrently manufacture many small satellites without compromising on its small team formula, quality, and performance.
With extensive industry expertise, SFL has been at the forefront of producing successful Microspace missions for commercial applications. In some cases, SFL clients require one or several satellites. In other cases, such as with New Space companies, SFL clients want to mass manufacture satellites in-house to reduce the cost of mega-constellations needed to provide services. A recent example is when SFL collaborated with a Toronto-based New Space company that wanted to deliver data services globally. New Space companies must focus on cost-effective services, not on satellite engineering. When innovation and custom spacecraft design are required, turning to a Microspace organization like SFL makes a lot of sense. In such situations, SFL can deliver a spacecraft design that New Space companies can mass produce to meet the cost targets of their aggressive business models.
Since its establishment in 1998, SFL's success has grown in leaps and bounds, making it a worldwide leader in low-cost yet effective Microspace missions. SFL aims to be responsive to industry needs in the years to come and will continue to offer improved satellite solutions for emerging applications—whether they involve single pioneering satellites or large satellite constellations. It will also continue to develop partnerships with New Space companies to deliver new designs, customizations, and better performance. With the growing number of New Space organizations, Microspace organizations like SFL will take center stage in helping them realize their business models with low-cost yet highly effective satellite technology," concludes Dr. Zee.